In our church, I teach the 6-7 year olds. This year, my class has about 10 children in attendance on any given week. Most of those are boys. They are mostly well behaved but sometimes they feed off of each others hyper energy. I wanted to figure out a way to help them remember to raise their hands to speak (otherwise it gets pretty loud!) and also encourage class participation.
I came up with these CTR Tokens.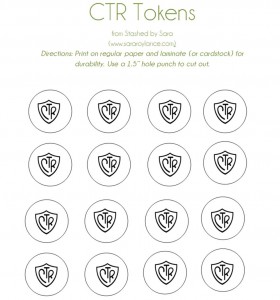 I printed them on regular paper and used my laminator to make them more durable in those busy hands. (If you don't want to laminate them, you could use cardstock but it wont be quite as durable.)
I used my 1.5″ hole puncher to cut them out.
How do I use them?
Whenever one of the children raises their hand and I call on them, I give them a token. If they are particularly reverent during class, stay seated in their chair, don't disrupt others during an activity, etc, they get a token. If they forget and speak out of turn or keep bothering their neighbor, etc, they give one back to me. At the end of class, after our closing prayer, they bring their tokens up and "buy" a small reward. Right now, I am using gummy bears and worms. Worms are worth two tokens each and bears are worth one.
As another bonus, anyone who has tokens at the end of class gets to put a puff ball into the Class Party jar. Once that is full, they get a class party!
Click to download the PDF: CTR Tokens
Feel free to make your own rules with these tokens. Use them to fit your class. Younger or older children may need different rules. Maybe you'd rather not bring candy/food – use pencils, stickers, bouncy balls, etc. Just decide how many tokens each item is worth.
I hope you can use these in your class!
XOXO