What a crazy busy time we had last week! If you follow me on Instagram, you probably saw some of the excitement. Posts coming soon!
April is almost here and I am so excited for Spring! I love the warmth and beauty that comes after a long midwest winter.
Spring is also exciting because it means another round of a Style Challenge at Get Your Pretty On! I have participated in these challenges in the past and they are a ton of fun! The shopping list is released Friday, April 3rd and outfits start on Monday, April 13th!
Keep reading for more info…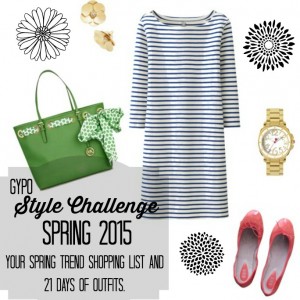 Imagine waking up every morning knowing EXACTLY what you're going to wear that day, walking into a closet full of mix and match on-trend pieces that you love. No more wandering around the mall not knowing what to buy.
All the work is done for you!
You love looking cute and put together, right?   But sometimes you're not sure what to buy or how to pair it up.  Maybe you're stuck in a "mom rut" of yoga pants or out of style, poor fitting clothes but aren't sure where to start to rebuild your wardrobe.
My personal stylist friend Alison Lumbatis, the creator of Get Your Pretty On has just opened registration for her latest GYPO Style Challenge.  The GYPO Style Challenge is a wildly popular virtual styling program where you get a shopping list of the latest seasonal trends along with 21 days of outfit combinations created from the list.   You can learn more here. Early bird registration closes on April 2nd but you can join at any time during the challenge!
Alison is passionate about helping other women get out of a style rut and feel pretty again.  She offers affordable, accessible style programs to help women regain confidence and feel great about how they look.
The GYPO Style Challenge also includes a vibrant and extremely active Facebook community where women swap shopping and style tips and encourage and support each other.  Most participants agree this is the best part of the challenge.
I love that you can be any age to participate – most are around 25-50 years old and up!
If this sounds like fun to you, you can check it out here.
I will be posting each week about the challenge and showing my outfits, too! Stay tuned!
HUGS!
Sara
P.S. I only ever recommend programs and products I truly love! Click here to see all of the details and exactly what's included.