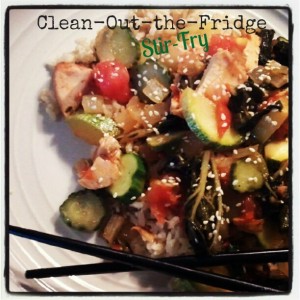 This is what we had for dinner tonight. I have seen similar meals called Farmers Market Stir-fry and while this was pretty close to that, it wasn't all from the Market.
My fridge had been screaming at me to clean it out for a little while now so I finally granted its wish.
I love the idea of doing a once a week clean out the fridge meal. This is especially helpful if you buy a lot of produce (I hope you do!) because sometimes things get overlooked and end up in the back of the fridge. By the time you discover them, they are rotten. Not so yum.

This week's meal consisted of (all chopped):
Zuchinni
Baby cucumbers
Onion
Tomato
Leftover Sauteed Swiss chard
Leftover grilled chicken breast
Stir fry sauce from Trader Joe's (any kind will work – just be sure to check the ingredients)
Brown rice (cooked ahead of time)
Here is the easy, peasy instructions:
Heat some olive oil in a large skillet or wok over medium high heat. Sautee the onion until soft (about 5 minutes for 1 onion). Add zucchini and cucumbers, cook until soft. Add tomatoes and chicken, cook until heated through. Add desired sauce, reduce the heat to medium low and cover until ready to serve (not more than 5 minutes). Serve over rice and sprinkle with sesame seeds. You can add more sauce individually, if desired.
Note: I used approximately one of each vegetable – except the baby cucumbers – and it was enough to feed 2 children and 2 adults… with leftovers for later this week! I cooked about 6 cups of brown rice so there would be enough for leftovers.
Enjoy!