What is Perpetual Bone Broth?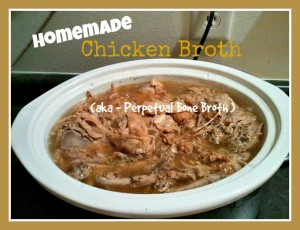 One thing that I always have simmering in my slow cooker is broth.
Bone broth, to be exact.
What is bone broth?
It is very similar to regular broth except that, when cooked this way, all of the nutrients from the bones are put into the broth to be absorbed by you!
Some of these nutrients are:
– Calcium
– Magnesium
– Phosphorus
Another great benefit is that you get a significant amount of collagen from these bones.
Why do we need collagen?
Oh, let me count the ways!
One reason is that it helps our bones break less.
Huh? Isn't that what calcium is for?

Nope. Calcium helps make our bones stronger.
Collagen helps keep them flexible. Without collagen, our bones would snap under direct pressure.
But – naturally, bone broth contains calcium too!
One more benefit that you should know for now – the yellow fat that chickens have contains a ton of immune boosting properties! I can usually dodge illnesses as they come into our house because I get this each day. Others in my house are not as diligent. They get sick, I keep drinking. 🙂
So – if you aren't yet convinced that you should be drinking some of this goodness everyday, let me explain how easy it is to make.
More