Happy Wednesday! This has been a fun week so far with starting the 2015 Spring Style Challenge with Alison from Get Your Pretty On. See this post for more details.
These challenges are so much fun and I really like coming up with new outfit ideas from clothes I already have in my closet! I go through my closet often to be sure I only keep pieces that I really love and wear in it and I found that, with this challenge, I only needed to get a few items from the Shopping List.
During this challenge, I am teaming up with a handful of the 1600+ women from the group to show our outfits from the Challenge. Yay! You should be able to get tons of inspiration from the posts and maybe not even have to spend a dime!
The way these Challenges work is that every night, Alison sends out the outfit formula for the next day. This time, she has actually released them a week at a time for those who want to plan ahead. These formulas are put together with items from the Shopping List and are left up to each person's interpretation. It is so fun to see what everyone is coming up with in the closed Facebook group!
The outfits only started on Monday so this week will be a shorter recap. Here are the versions I came up with for Monday and Tuesday: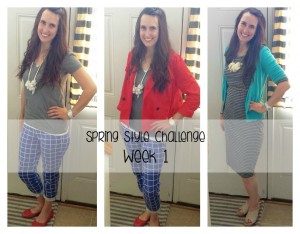 Day 1:
Formula – Bright Jacket, Grey T-shirt, Patterned Pants, Bright Flats, Long Necklace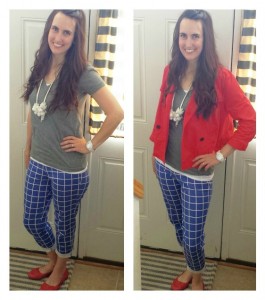 My Interpretation – Jacket: Old Navy (here), Grey T-Shirt: Target (similar), Pants: Old Navy (here), Shoes: Payless (old), Necklace: Downeast (old)
Those pants were something I had been looking for online but could not decide if I liked them or not. Then, I was shopping in-store and saw them and decided they were cute and they needed to come home with me. So here they are! The jacket did not stay on all day – mostly because I had just worn it all day on Sunday.
Overall – super cute and comfy!
Day 2:
Formula – Cardigan, Striped Dress, Neutral Wedges, Long Necklace, Hoop Earrings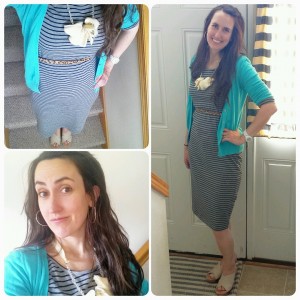 My interpretation – Cardigan: Old Navy (here), Dress: Old Navy (here), Shoes: Wal-mart (here), Necklace: Downeast (old), Belt: Forever21 (similar)
This dress is made out of soft stretchy fabric – similar to jersey and it was so comfortable to wear all day! Those hoop earrings took a little getting used to as I have not worn them in years – but I think I like them. Also – those that know me know that I am not a fan of Wal-Mart for several reasons. BUT – as I was searching for some new wedges online, I found these that were super cute and they were from…. dun dun duuuun…. Wally World. I ordered them anyway and was hopeful I would like them as much in person so I would not have to go into the store to return them. I got them in the mail on Monday and whew! They were super cute and comfortable – double triple win!
These were fun to put together and I bet you could do it with some adaptations too!
Next week, I will have a whole week's worth of outfits for you so stay tuned!
HUGS!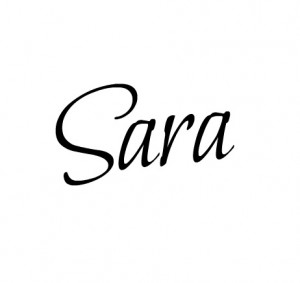 Also linking up this week with:
Get Your Pretty On  |  The Pleated Poppy  |  Because Shanna Said So  |  Tucker Up  |  Shopping my Closet | Cappuccino and Fashion | Pampers and Pearls |  Pumps and Push Ups  |  Style Me Weekly  | Classy Yet Trendy | Doused in Pink  |  Happiness at Midlife | Jolynne Shane  |  A Little Bit of Everything  |  Momfessionals  |  Grace & Love  | Fashion Should Be Fun | Design Life Diaries | Book of Leisure | The Mummy Chronicles